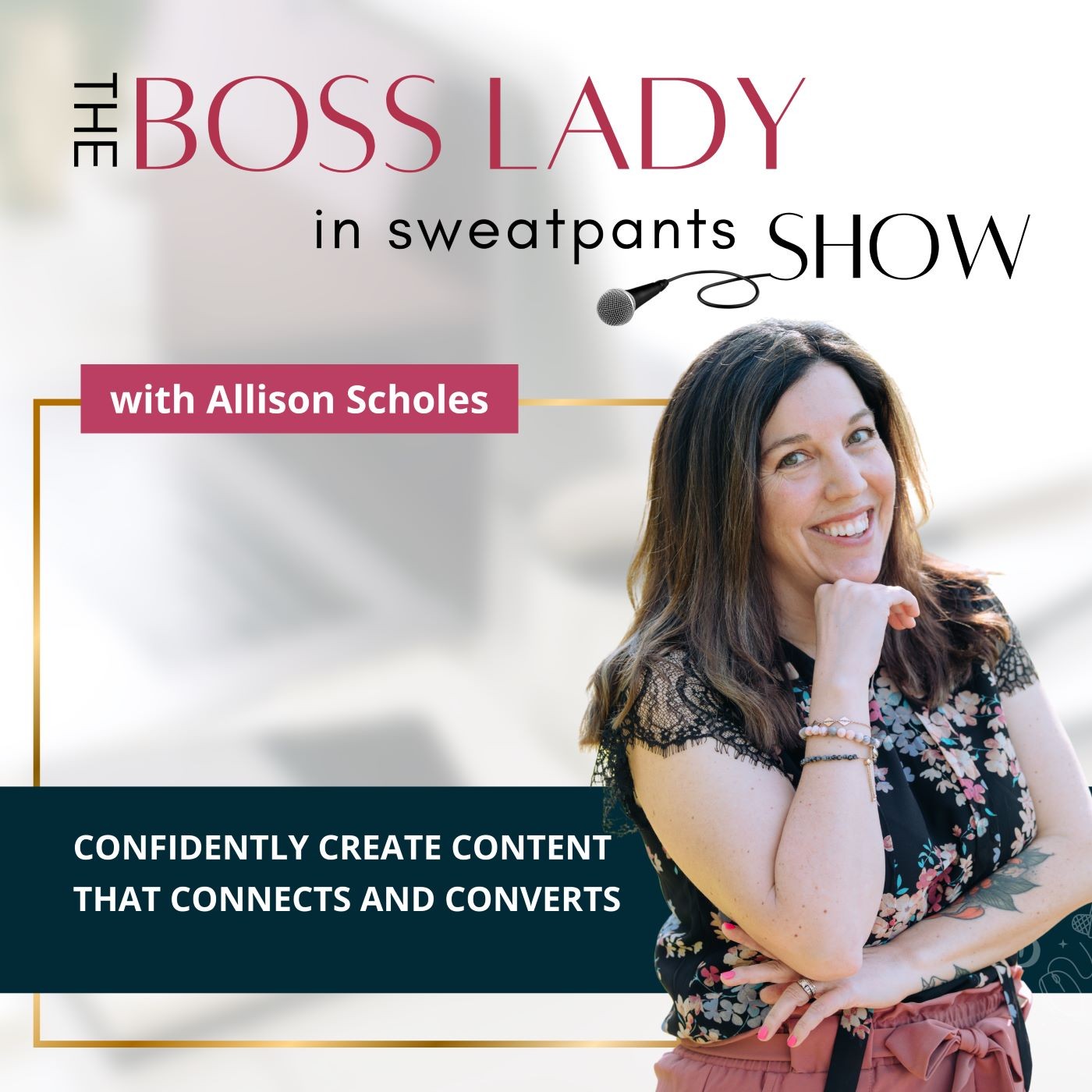 Hey. I'm Allison Scholes. My mission is to help female entrepreneurs create content in an authentic, easy, simple and fun way. I believe the content creation process should be exciting and easy, not time consuming! I am here to help you streamline your content creation plan, define and fine tune your personal brand, elevate your marketing skills, write better copy, implement an easy social media strategy and more. It's finally time to create less, but BETTER content that makes a BIGGER impact. In this Podcast, you will find creative copy and content tips, hacks for social media and sales, business growth secrets, and expert guests who will help you blow up your business and bank account. Find exciting content creation episodes, branding strategies, social media hacks and more. It's time to streamline your content plan and show up as your most authentic you! Connect with me: www.bossladyinsweatpants.com
Episodes
Tuesday Dec 13, 2022
Tuesday Dec 13, 2022
Would you like to learn how to reduce stress and anxiety? How about bust through limiting beliefs that are holding you back in your business?
Get ready for a self-healing journey by using the Emotional Freedom Technique, aka, E.F.T. Otherwise known as tapping.
I'm joined today by Lauren Fonvielle, an Integrative Energy Practitioner who specializes in EFT/Tapping. Her passion is to help entrepreneurs and her clients reduce stress, break through physical, mental or emotional obstacles and increase their profits in their business.
In this episode you'll discover:
What is EFT?
How to do EFT today and practice it to reduce stress and anxiety
The science behind EFT
The ultimate benefits to EFT
Please connect with Lauren at:
IG: https://www.instagram.com/laurenic0le/
FB: https://www.facebook.com/LaurenFonvielle
YouTube: https://www.youtube.com/c/LaurenFonvielle
Website: https://www.mindshiftwithlauren.com
Masterclass: https://www.mindshiftwithlauren.com/masterclass
Free Monthly Tapping Circle for Entrepreneurs: https://bit.ly/biz-tap
Please connect with your host, Allison at:
www.instagram.com/allisonscholes
***Snag the Daily Journal (holiday promo sale is December 14-21.)